| | |
| --- | --- |
| Books | |
---
---
Inside the Criminal Mind
Copyright 1984, 2004, 2014.
Long-held myths defining the sources of and cures for crime are shattered in this ground-breaking book--and a chilling profile of today's criminal emerges.
Fully revised, expanded, updated 2014 version, in paperback.
New Information in the 2014 edition includes:
The Internet as a rapidly growing arena for criminal activity
Expanded discussion of the criminal's experience of intrigue, excitement, and financial gain from using, manufacturing and distributing drugs
Examination of two different homicide cases where the perpetrators come from opposite backgrounds but have nearly identical thinking processes, demonstrating that criminality cannot be attributed to parental upbringing and the larger social environment
A new chapter on the criminal's simmering anger and why "anger management" programs with a criminal population are futile
A new chapter on sex in the life of the criminal
A close look inside prison walls offering a vivid picture of what employees at prisons and jails encounter daily
Updated genetic and biological research as to whether some people are "wired" to become criminals.
To order new 2014 paperback edition, click here
Read related interview: Forbidden Fruits: A Journey Inside the Criminal Mind with Dr. Samenow
---
Published October, 1999 by Kodansha: Japanese edition of "Inside the Criminal Mind"
---
The Myth of the Out of Character Crime
Copyright 2007, 2010.
From time to time, into the news burst accounts of regular people who commit crimes that seem totally out of character according to those who know them well. Lee Malvo, one of the D.C. snipers, was known to his friends and family as a smart, promising man. "Steven," was a talented, young scientist with no criminal record. No one suspected he was capable of injuring another-until he was arrested for abducting a man, handcuffing him, and threatening to blow off his head with a pistol. What makes these otherwise stable and respected men and women commit crimes? Why do those who know them best not see the signs? Are there clues people can look out for when a person is about to "snap?" What in the psychological makeup of defendants resulted in their committing crimes? Here, a seasoned forensic psychologist delves into the psyches of these otherwise "normal" people, whom he has treated and researched for many years.
2010 paperback version available for $15.95. Place your order.
---
In the Best Interest of the Child
How to Protect Your Child from the Pain of Your Divorce
Copyright 2002.

Click on image to enlarge
"The book is a ringing call to responsibility, sanity and maturity for those working through divorces..."
- The Washington Post
Read the following review from The Washington Post: A Child's Eye View

Available now. To order, click here
---
Before It's Too Late
Why some kids get into trouble-- and what parents can do about it
Copyright 1989, 1998, 2001.

Fully revised and updated. Includes three new sections. Available in paperback.
Now audio version of book is being released on November 7, 2017.


Click on image to enlarge
This is a body of work which gives concerned parents and professionals instructive insight into the personality of "problem children" and gives practical suggestions for taking corrective and remedial steps before it's too late.

To order paperback version from Amazon.com, click here.
---
Straight Talk About Criminals
Understanding and Treating Antisocial Behavior
Copyright 1998. [July 2002: Now available in paperback]


Is there a genetic predisposition to crime?
Should mental illness be taken into account?
Do family and social environments have a role?
Do people become abusers because they have been abused?
How can people who do terrible things consider themselves good people?
What should someone involved in a relationship with a criminal know?
To purchase, go to Straight Talk About Criminals
Or, order direct via phone at 1-800-782-0015 (Aronson Publishers)


---
The Criminal Personality, Volumes I, II & III
Copyright Vol I: 1976, Vol II: 1977, Vol III: 1986.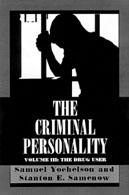 Volume I: A Profile For Change -- The authors present a detailed description of criminal thinking and action patterns and convincingly argue that these patterns cannot be understood by sociologic or psychologic explanations alone. They stress that the thinking patterns in the criminal must be altered in the change process.
Volume II: The Change Process -- This book describes an intensive therapeutic approach designed to completely change the criminal's way of thinking. The authors reject traditional treatment approaches as reinforcing the criminal's sense of being a victim of society. Rather, Yochelson and Samenow stress that the offender must make a choice to give up criminal thinking and learn morality.
Volume III: The Drug User -- Volume III extends their findings and procedures to drug-using criminals.
To purchase Volume I, go toThe Criminal Personality, Volume I
To purchase Volume II, go to The Criminal Personality, Volume II
To purchase Volume III, go to The Criminal Personality, Volume III

Complete three volume sets of "The Criminal Personality" in softcover available through Dr. Samenow; e-mail to samenow@cox.net. Must purchase entire set.


These can also be ordered direct via phone at 1-800-782-0015 (Aronson Publishers)

---

Return to Dr. Samenow's Homepage